Spring Break
This spring break was different from any others. I had a job so I was working quite a bit. However, on two of my days off I was able to take the written and driving test for my license. I passed! Now I only need to get a car, preferably an automatic. On the same day that I took my driving test, I also went out to lunch with my adopted grandmother. My mom and brother came along as well. On Sunday, the last day of spring break, I spent the entire day building/expanding our chicken coop. Now our ladies(chickens) have lots more room and when the girls(chicks) join them there will be plenty of space.
Journalism Editorial
At Borah high school we count absences and tardies just like any other school. One thing we have begun to question is why you are only allowed five tardies before you lose credit in the class, but it takes nine absences to lose credit.
We understand that tardiness may just show the students lack of caring for the class and that absences may mean a student is sick.
If a student is tardy then they will be able to learn part of the lesson and more easily catch up. However, a student can miss an entire day of school, which means the student won't get any of the work until the next day and then that means the student will be somewhat behind the entire class. At borah high school we count absences and tardies, but we have begun to question why we are only allowed five tardies until we lose credit and nine absences until we lose credit.
Journalism Mini Editorial
​
Journalism is a reasonable and helpful elective to take in high school. It opens up new communication skills for all students. It also allows you to earn high school and college credits at the same time. Taking journalism in high school is a reasonable elective to take.

Why I Blog - The Atlantic
Details from the article that I believe are important

1. Blog is a conflation of two words: Web and Log
2. Blogs are a form of instant and global self publishing, made possible by technology available for the past decade or so
3. It is the spontaneous expression of instant thought
4. Bloggers rarely have time to collect their thoughts, to wait until events settle and a clear pattern emerges
5. A blog is not so much as daily writing, but hourly writing
6. The deadline is always now for bloggers
7. Blogging is writing out loud
8. Historic form closest to blogs is the diary, though unlike the diary it is instantly public
9. Readers can be brutal




The writer, Karen, is a blogger. She tells the basics of the blog and then has quotes from nine experts. She links to their page so that you can check them out for yourself.
Click the mage above to go to the site.

Fake News Stories

BuzzFeed gave a list of the

top fifty fake news

stories that were posted on Facebook. The headlines of some of these stories sound ridiculous. Click the button or the linked "top fifty fake news" to head to the page.
Lead

In June 2017, my family and I will be going on an Alaskan cruise. This will be the first one for my brother and I, but the second for my mom and dad. Before the cruise we shall explore Seattle for two days and then we will be off on our big adventure at sea and across Alaska.
Seven key values to keep in mind

Impact. Will it affect the readers? Does it matter to the readers? Big consequences mean a bigger story.
Immediacy. Timeliness is crucial. Did it just happen? Is it about to happen?
Proximity. A local story might attract more readers than those that are in other states or countries. How close is the story?
Prominence. Does it involve a well known figure? If so, might stir a readers curiosity.
Novelty. Unexpected and intriguing stories are enjoyable. Is it odd, new, or surprising?
Conflict. Is there a clash, battle, or rivalry? Lookout for dramatic stories to tell.
Emotions. What does this make us feel? Happy? Sad? Readers respond to human-interest stories.


Definitions from the glossary of the Newspaper Designers Handbook, sixth edition
​
Ascender. The part of a letter extending above the x-height(as in b, d, f, h, k, l, t)
Bleed. A page element that extends to the trimmed edge of a printed page
Column rule. A vertical line separating stories or running between legs within a story
Dingbats. Decorative type characters used for emphasis or effect
Ellipsis. Three periods used to indicate omission of words
Filler. A small story or graphic element used to fill space on a page
Gutter. The space running vertically between columns
Hammer head. A headline that uses a big bold word or phrase for impact and runs a small, wide deck below
Import. To bring an electronic mage into a computer software program
Jump line. Type telling the reader that a story is continued from another page
Kerning. Tightening the spacing between letters
​Leader. A dotted line used with tab stops
Moire. An eerie pattern that's formed when a previously screened photo is copied, then reprinted using a line screen
Nameplate. The name of the newspaper as it's displayed on Page One; also called a flag
Orphan. A short word or phrase that's carried over to a new column or page; also called a widow
Pica. A standard unit of measure in newspapers. There are six picas in one inch, 12 points in one pica
Runaround. Text that wraps around an image; also called a wraparound or skew
Scale. To reduce or enlarge artwork or photographs
Trapping. Slight overlapping of color plates to prevent gapes from appearing during printing
Velox. A photographic paper used for shooting halftones. Also called a photomechanical transfer or PMT
Powered by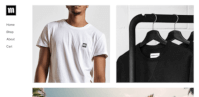 Create your own unique website with customizable templates.